Company Updates
SpruceID Partners with California DMV on the Mobile Driver's License
SpruceID has partnered with the State of California Department of Motor Vehicles (DMV) to bring mobile driver's licenses to residents of California.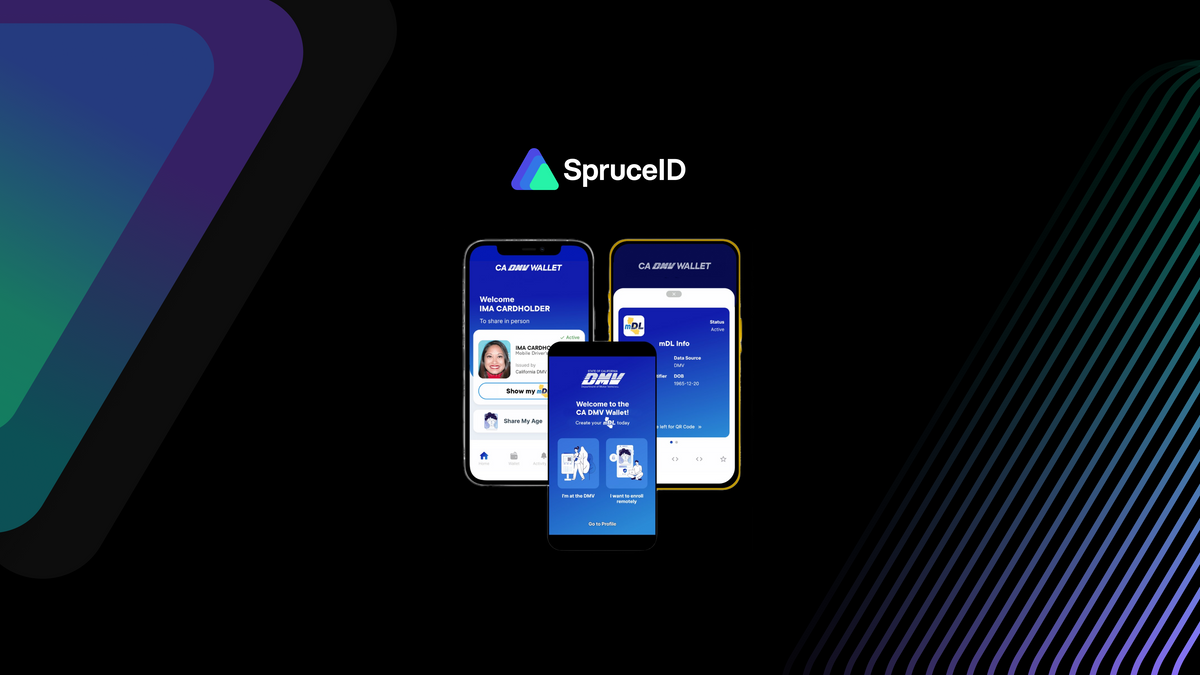 Over the past 18 months, SpruceID has been working with the State of California Department of Motor Vehicles (DMV) to bring mobile driver's licenses to residents of California. Earlier this fall, the State of California expanded the initial pilot program to allow California residents to download a mobile driver's license (mDL) on their smartphone through the California DMV mobile app (compatible with iOS and Android devices).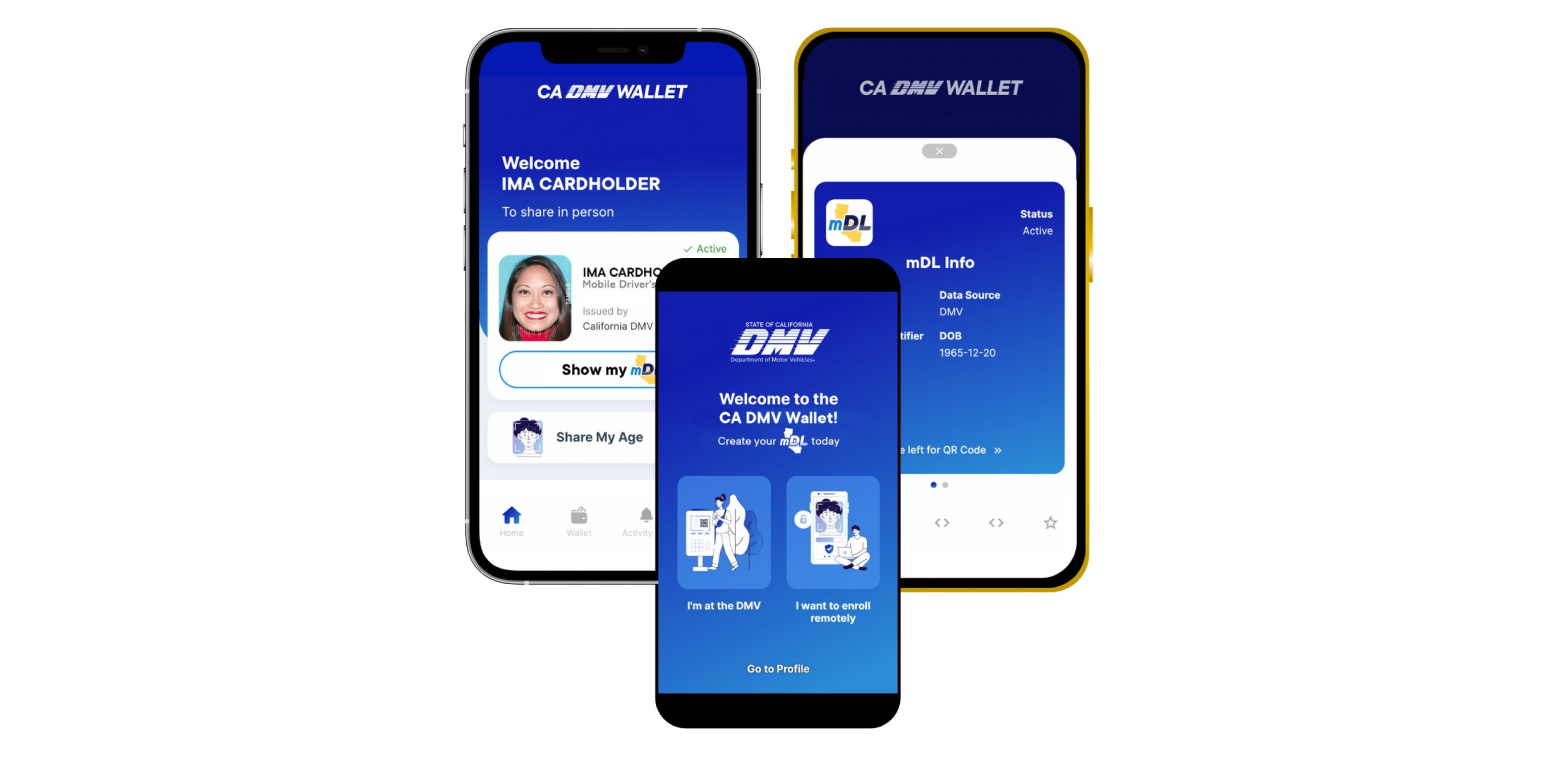 The mobile driver's license is powered by SpruceID's SpruceKit components and Credible Platform product. SpruceKit is an open-source toolkit for decentralized identity that enables secure wallet construction, and Credible Platform provides entire credential life cycle management–from issuance and presentations, to updates and revocation. Both are modular solutions that are made to integrate into existing high-assurance environments with security and privacy at the core.
The privacy-first mobile driver's license can be used at participating TSA airport security checkpoints and select retail locations. In the future, the mobile driver's license can help residents prove their identity online, operate motor vehicles, access health care, secure financial assistance, and verify their age–both in-person and online–while selectively disclosing only the necessary information.
Open Source
There are three main pillars important to us as we worked with the DMV to scope out a mobile driver's license solution. First, we fundamentally believe in the value of open-source technology as a public good to reduce build costs, prevent vendor lock-in, and provide transparency. Our core components are, therefore, open-source to create an accessible ecosystem for digital identity infrastructure, to demonstrate that open protocols are indeed open with usable production-grade libraries free of proprietary licensing, and to allow civil society to review the function of critical workflows. While SpruceID is indeed a private sector business, our mission to let users control their data across the web can only be realized through ecosystems built on privacy, security, and choice.
While the program is still in the pilot phase, we are actively collecting and implementing early user feedback. As the program matures, we will first release the base libraries as open-source software, to empower other States, jurisdictions, and the private sector to implement privacy-preserving digital credentials.
Interoperability
We are committed to interoperability and standards compliance by implementing the ISO standard for mobile driver's license applications (ISO/IEC 18013–5) and W3C Verifiable Credentials. This facilitates compatibility across agencies, across different states, and, in the future, online for various websites and digital services. It also creates an even playing field for technology providers so that digital identity infrastructure is not dominated by only a few large firms.
Today, a registered driver in California can use their DMV-issued mDL to prove their identity to the Transportation Security Agency (TSA) at select airport security checkpoints using ISO/IEC 18013-5. There are currently twenty-five airports across the United States that accept digital IDs at security checkpoints, including the California mobile driver's license.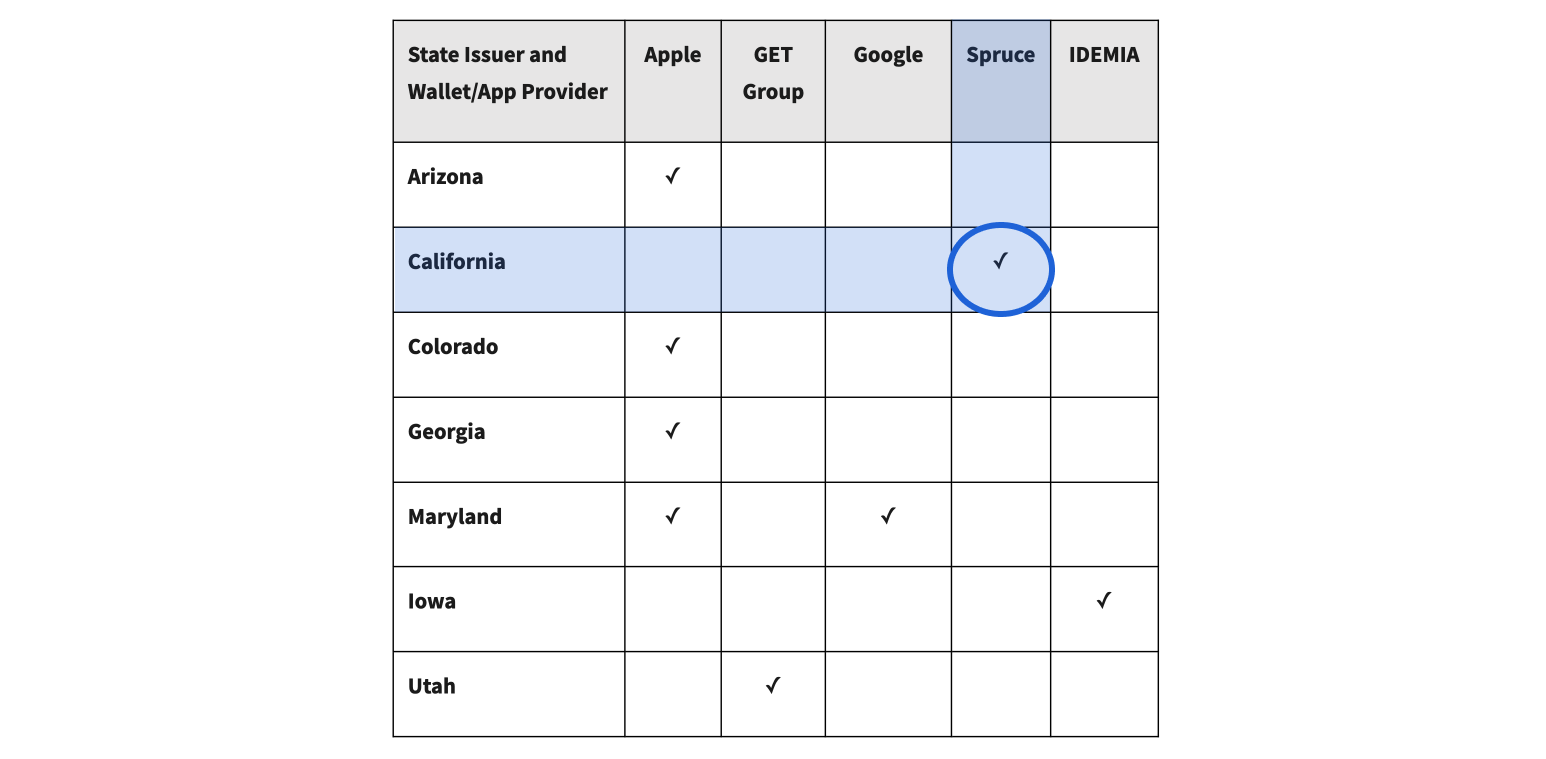 In 2022, the TSA announced a new budget authorizing an R&D initiative focused on integrating digital identity authentication capabilities at airport checkpoints. They specifically outlined the importance of digital identities, including the increase in the efficiency of security checkpoints for passengers. They also stressed the increase in privacy afforded to travelers by only sharing the required information (name, gender, date of birth, and photo) rather than the entire ID card (which also includes weight, height, home address, and other information).
In the future, a mobile driver's license holder may use their smartphone-held ID to digitally prove their identity, which is currently challenging to complete in a high-trust manner with a physical ID card. We recently hosted (and participated in) the ISO 18013-7 Interoperability Event along with the California DMV to test how mobile driver's licenses can be used online with a variety of mDL verifiers. ISO/IEC 18013-7 is the draft standard for how a mobile driver's license can be verified in an unattended presentation, such as online.
User Experience
Finally, we want to ensure increased privacy, security, and convenience for users. Smartphones are increasingly a part of our daily lives, and the convenience of having a mobile driver's license on a smartphone must be accompanied by a high level of security.
From a user perspective, we knew it would be critical for Californians to feel their information and activity are safe and private while using a mobile driver's license. Users of the application are offered more privacy in interactions than using their physical ID counterparts since it allows users to selectively disclose only the required information. For example, at a drinking establishment, you can prove that you are over 21, without exposing your full birth date, your weight, your home address, or other personal details.
The mobile driver's license also prevents "issuer phone-home," where issuers may be notified each time someone verifies a mobile driver's license digitally. This is prevented by allowing offline verifications that do not permit the issuer to track the mDL holder and where they are presenting their mDL.
At SpruceID, we firmly believe in empowering citizens through user-controlled identity. In our Digital Identity Knowledge Base, we shared more about our ideology related to privacy and equity in a mobile driver's license solution, in alignment with the EFF, ACLU, and EPIC comments to the Department of Homeland Security's request for comments. You can read more in our Knowledge Base here.
Digital identity impacts all of us, and we're collaborating with the California DMV to refine and improve based on the initial feedback from the pilot program. We want to ensure that every user finds the system usable and accessible, so we value and appreciate your feedback.
Today, any licensed driver in California can download and set up a mobile driver's license through the California DMV Wallet app. For more information, visit: https://www.dmv.ca.gov/portal/ca-dmv-wallet/.
For updates on SpruceID's latest developments, please sign up for our mailing list.
---
About SpruceID: SpruceID is building a future where users control their identity and data across all digital interactions.